Can we just talk about all these crazy cold days lately? If you've been experiencing the winter blues, you're not alone! If you are in Boston or the Northeast, you know that dreaming of warmer spots is a daily sport. So let's dream! Or make them a reality. Here are some of my personal favorite places to visit.
Tulum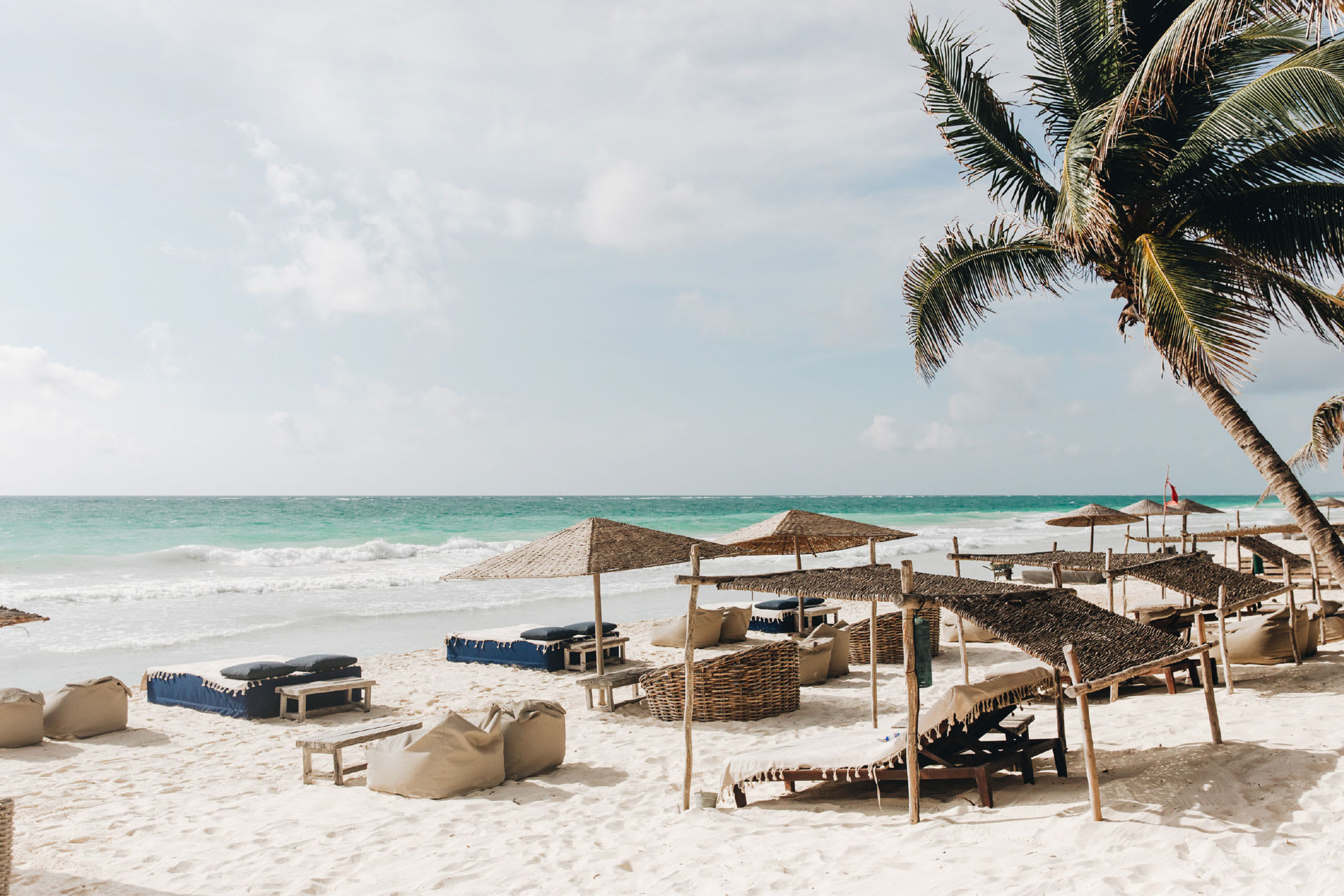 Credit: Be Tulum
An absolute beauty! Located along the Caribbean coastline of Mexico's Yucatán Peninsula, Tulum is a beautiful, tropical getaway. With short flights from Boston, Tulum is one of my favorite, quick destinations. The stunning beaches lined with cabanas and the excellent cuisine will certainly brighten your spirits. Tulum has something for everyone and is famous for its lush jungles, ancient Mayan ruins, and white-sand beaches.
There are endless ways to relax and enjoy the views in Tulum, and one of the best places to stay while doing so is at Be Tulum, which offers exclusive suites showcasing crystal clear waters, beautiful beaches, and surrounding verdant forests. I can't rave enough about the option to stay in their private villas, which include dozens of unique amenities to make your stay a truly fantastic experience. For a true suite experience, my favorite is the Aire Suite, an oceanfront retreat that features a rooftop terrace with a pool, making it the perfect, private spot for relaxing and enjoying the sun.
If you love exploring new cuisines, as you know I do, Tulum is the place for you! Their food is excellent, and the hotel has two outdoor restaurants on-site — The Maresias, famous for their light dishes made exclusively from local ingredients from nature, and the Ocumare, which pays tribute to Mexico's heritage in cuisine and ambiance. Both are excellent options to round out your complete Tulum vacation.
Cartagena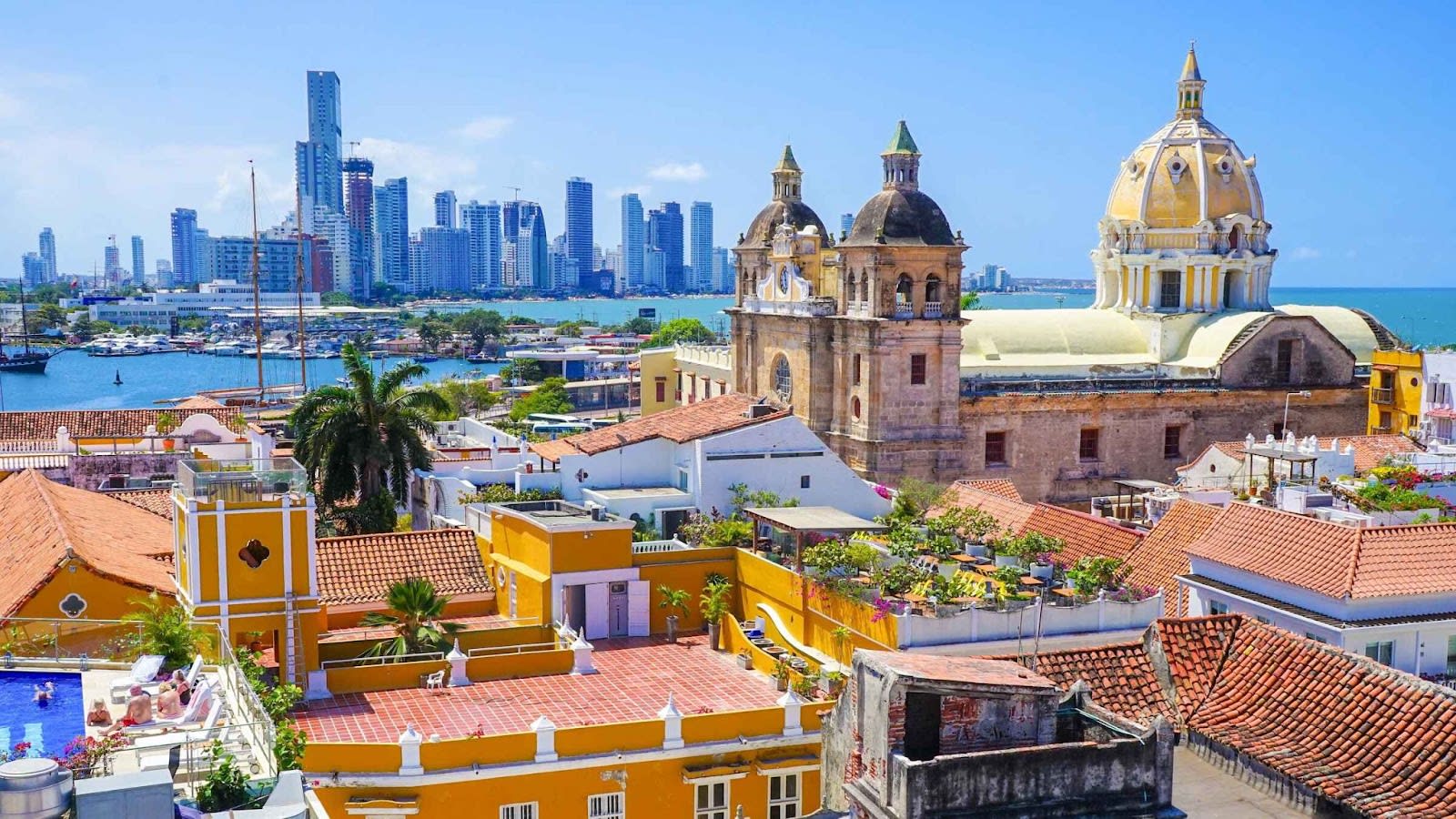 Colombia is filled with extraordinary cities and natural beauties to visit. However, when you're looking to slip away during the winter, one of my favorite locations, and the city that is dearest in my heart, is Cartagena. Situated along the northern coast of my native country Colombia, Cartagena is full of amazing people, cuisines, and beaches. Ditch the cold temperatures, and catch a short flight from New York City or Miami to enjoy the warm, tropical climate that is sure to boost your mood.
The beaches are lined with beautiful white sand and crystal clear waters from the Caribbean Sea, and the old town is full of preserved historic architecture dating back to the 16th century. Marvel at the massive, pristine churches, and wander down the inspirational cobblestone streets lined with colorful buildings until you reach the ocean. Don't forget to stop and try a variety of Colombian regional cuisines, and complete your evening with a night of salsa dancing as the sunsets.
Reachable by boat are Isla de Barú, with white-sand beaches and palm trees, and the Islas del Rosario, known for their coral reefs.

You can't go wrong with the Sofitel Legend Santa Clara, which used to be an old convent from the 17th century. This luxury hotel is like a tropical paradise in the middle of a bustling city. The rooms span from simple elegance to romantic Colonial styles to spa-ready suites, and this charming hotel also includes a gourmet restaurant, world-class spa, and state-of-the-art technology to meet your every need. Cartagena is by far one of the greatest, historical cities in the world, and it's a truly inspiring place to visit when looking to beat the winter blues.


San Miguel de Allende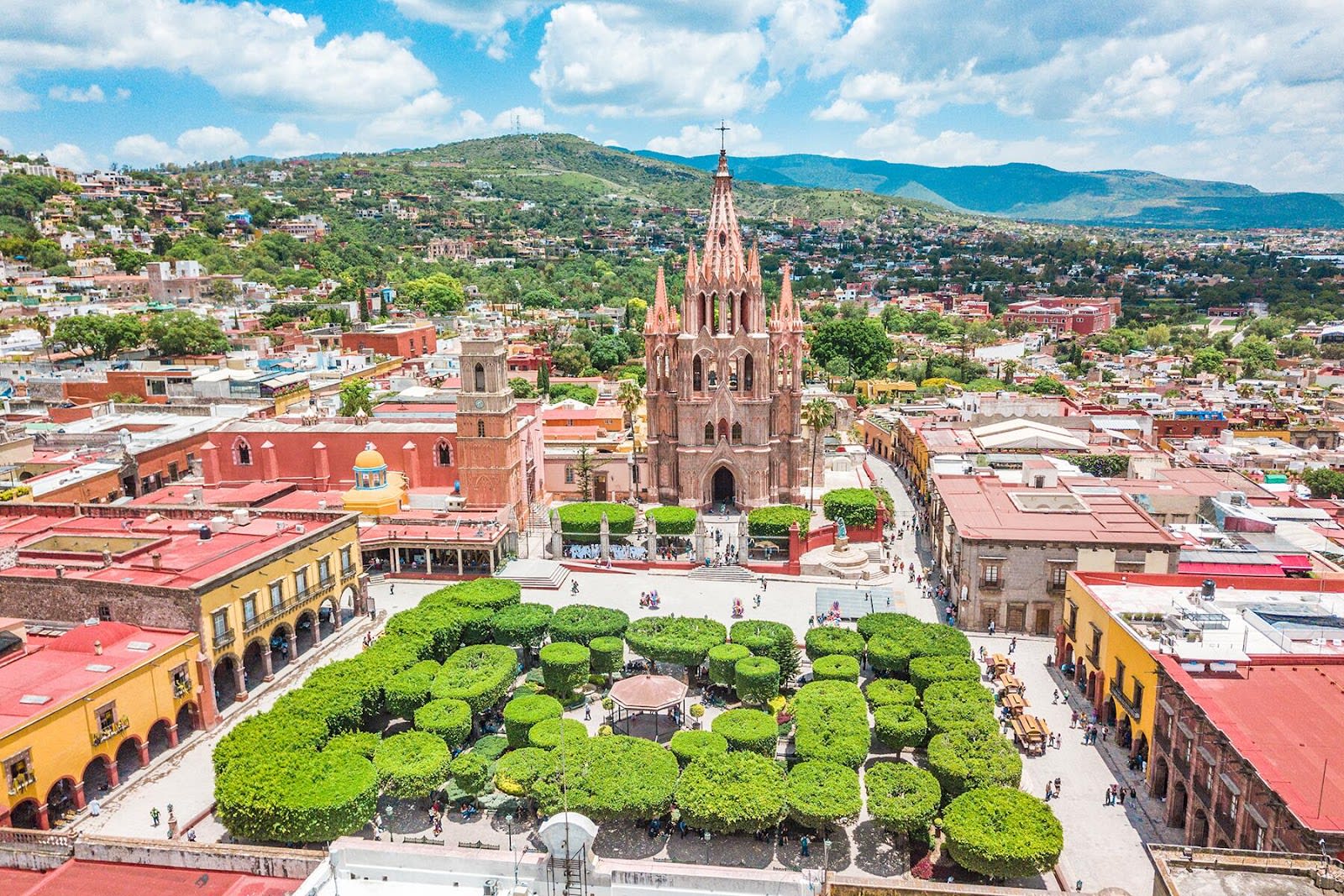 A few years ago, I visited the town of San Miguel to view a new construction project and fell in love with the city. Located 150 miles north of Mexico City, this small town is bursting with excitement around every corner! When walking through the streets of San Miguel, you can feel the bustling energies around you, which really brings up your spirit during the winter. The warm weather, friendly locals, and gorgeous architecture make this international small town one of my favorite destinations to visit.
The energy is palpable in San Miguel, where at any time of year, travelers are guaranteed a festival or celebration held throughout the streets. To truly appreciate the town, it's best to put on your walking shoes and go out and explore the city on foot. Amazing sights and inspiring designs await you — just make sure to stop and enjoy the local cuisine, which might be my favorite part of the city! Known as one of the gastronomic hot spots of the world, San Miguel is positively bursting with exceptional cuisine options. It's the best spot for farm-to-table dishes in all of Mexico and a mecca for foodies.

Some of my favorite restaurants in include:

Restaurante 1826 (Rosewood Hotel)

,

which embraces the signature "farm-to-table" philosophy and celebrates partnerships with nearby farms and food producers in San Miguel neighborhoods.

Moxi (Matilda Hotel)

combines traditional Mexican flavors with contemporary cuisines in a modern and upscale hotel.

Áperi

, which has been recognized as one of the best gourmet experiences in Mexico by Travel + Leisure. They offer a unique dining experience that caters to all five senses with the opportunity to dine at the chef's table.

Zumo Rooftop

, a first-class restaurant offering first-class views of San Miguel. Their rooftop dining experience is like no other and their cuisine blends international flavors with a Latin touch.

The Belmond Casa Sierra Nevada

, features two award-winning restaurants in this luxurious hotel, both offering incredible international menus.
Another beautiful place to rejuvenate your spirits in San Miguel is outside of the city in Wine Country. Wine country is one of the most visually stunning places I have ever experienced — the dramatic views of lush fields and historic architecture take your breath away. What better way to fight off the winter blues than by taking in the gorgeous scenery, paired with delectable wine?
The Maker - Hudson, New York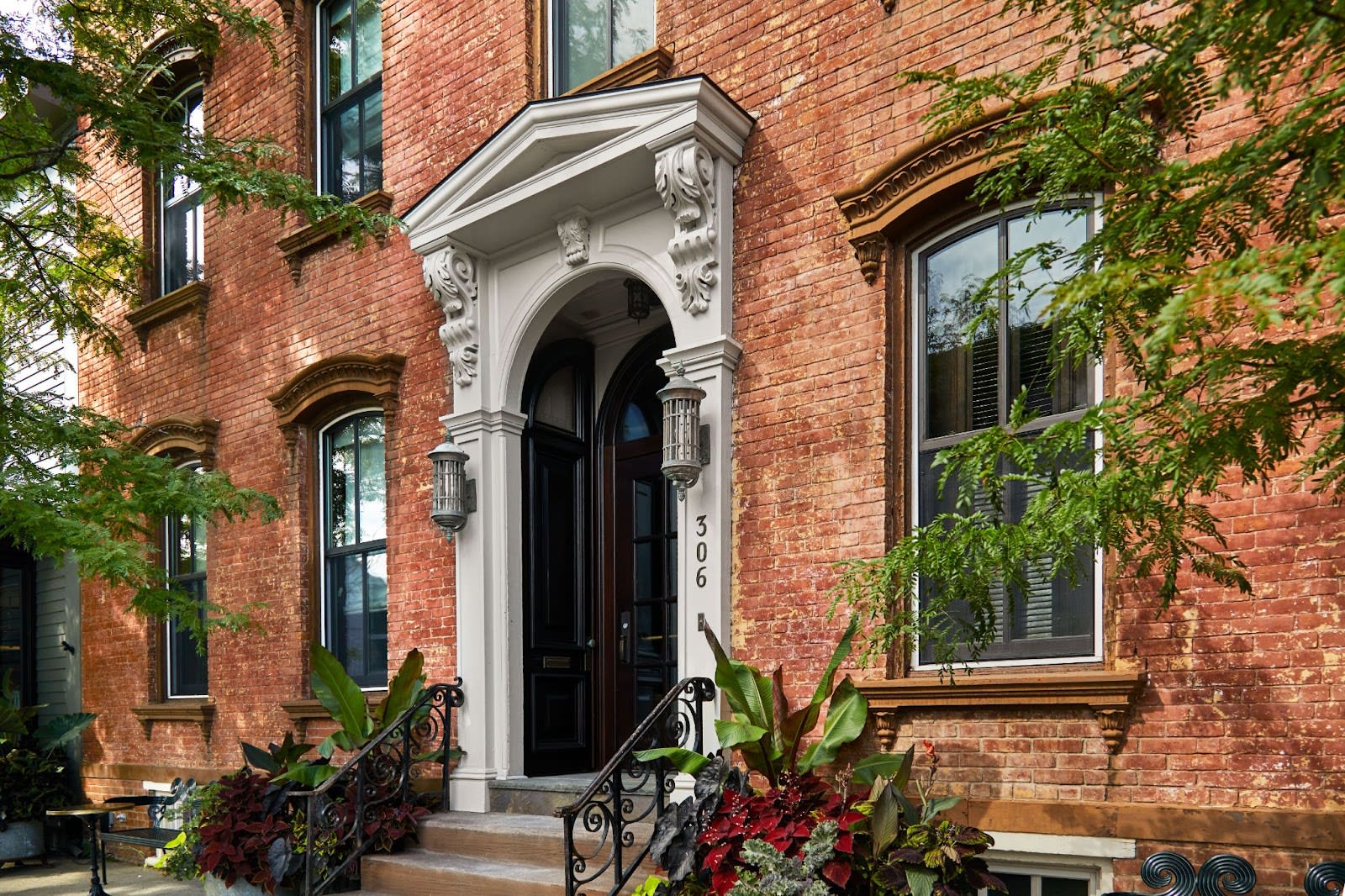 If you're unable to fly to a warmer destination, it's still possible to beat the winter blues just a few hours from home. The Maker Hotel in historic Hudson, New York is one of my favorite winter getaways while still remaining close to home. I may not be beating the weather, but I am sure to be in a better mood when I book a stay at The Maker! It's an architectural dream and a truly stunning building with incredible food and an amazing bar — I even had my 50th birthday celebration at The Maker.
Voted in Architectural Digest's "Top 25 Most Beautiful Hotels," The Maker was built to inspire guests and encourage their imaginations, which is something I love about visiting this space. Among many unique characteristics of The Maker is its Fragrance Library. Dear friend & owner Lev Glazman notes, "This room houses my personal collection of scents collected from around the world. I've always been very passionate about fragrance – because it is through fragrance that you can capture a moment or a memory." Their fragrances have been bottled and made available for purchase from The Maker Fragrances.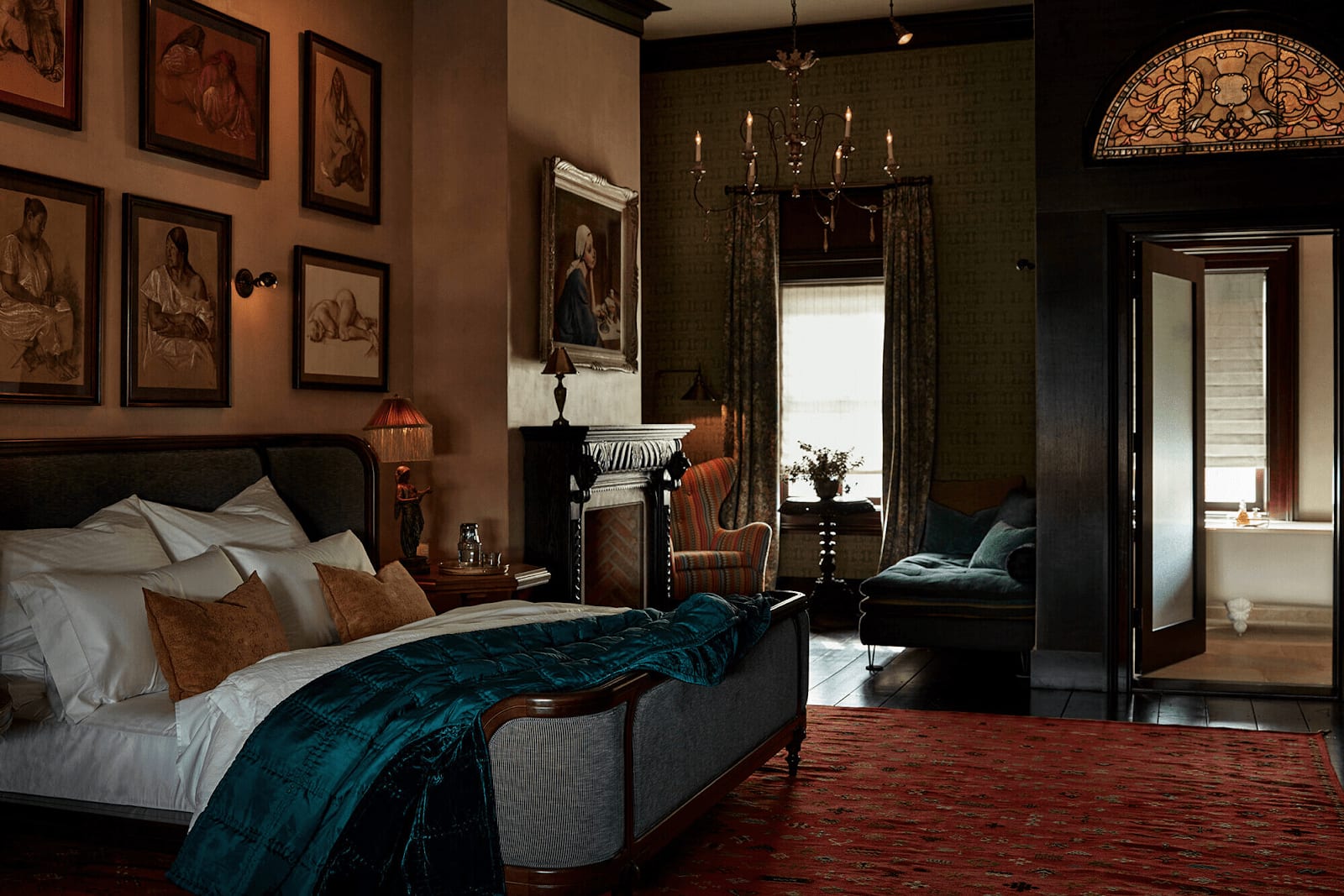 The Artist,
Credit: The Maker, Francine Zaslow
My favorite rooms at The Maker are The Artist and The Architect. The intimate, sophisticated spaces provide a perfect winter sanctuary as the days grow colder and longer, making a stay at The Maker one of the most magical winter experiences. Both rooms are designed with art and architecture in mind and are completely fashioned to their respective themes.
The Artist is a Bohemian refuge and a gorgeous, creative space that highlights the beauty of art on the walls. The Architect is reminiscent of 1940s living spaces, with dark accents that play with the light and decor of the space. I love spending time in these rooms and fueling my creative energies in their space.
The Maker Hotel is truly a wonderful, imaginative, and unique spot in Hudson, New York, and it's one of the "can't-miss" boutique hotel experiences of the northeast. While I love to visit tropical places during the winter, the inviting ambiance of The Maker is irresistible in its own right. Additionally, with its proximity to Boston, it makes for a perfect winter weekend getaway.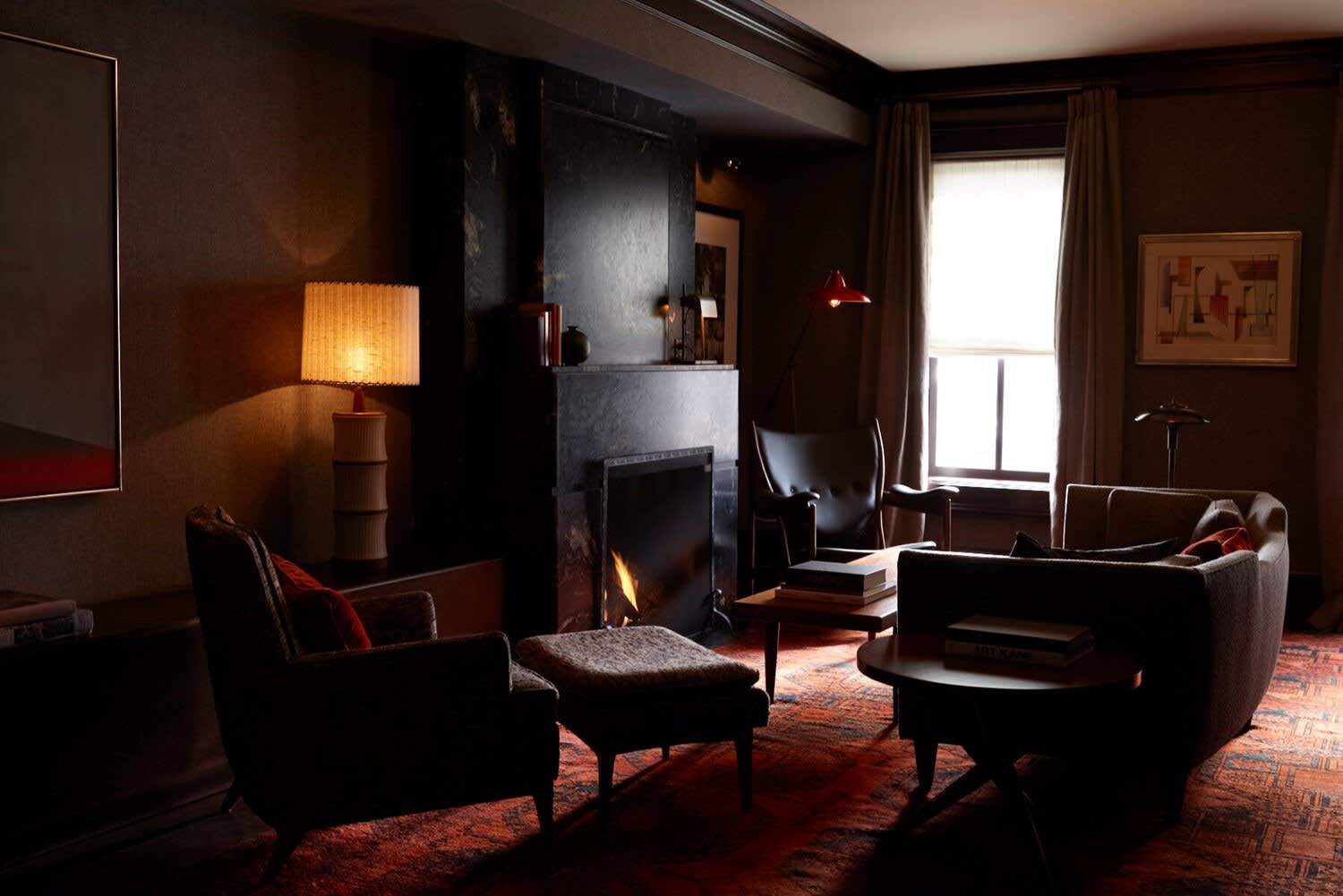 The Architect,
Credit: The Maker, Francine Zaslow
We believe it's not where you live, but how you live. And where you rest and dream is as important.
Ricardo
Please reach out to Ricardo Rodriguez & Associates when you're ready to make your next move in Boston real estate.