Getting Your Holiday Table Ready
From some of Boston's top creatives, here are my favorite tablescape ideas to make your holiday the most special one yet!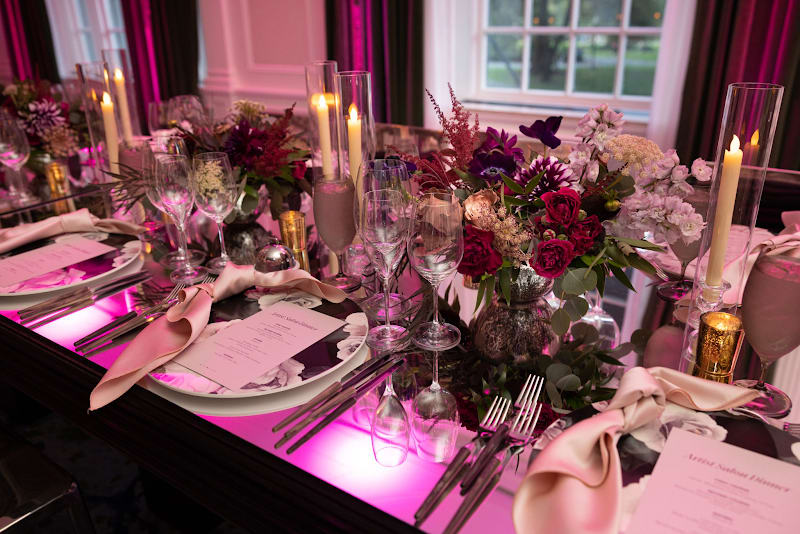 In cities around the world, winter means snowfall, hot chocolate, and crackling fires in the fireplace. But for me, my city's unique style and wonderful people make this time of year something special. After nearly 20 years as a Boston realtor I've seen, staged, and sold many homes throughout all the seasons. But over time I've come to notice an interesting trend. As new clients prepare to sell their Boston home in the spring, they often see winter as a final chance to pull out all the stops with seasonal decor and family gatherings. Alternatively, my clients who have closed within the past year are often determined to use the holidays as an opportunity to truly make their house a home. In either case, I've been able to enjoy some great holiday parties and see some amazing interior design themes.

Nothing brings friends and family together to ring in the season like a holiday dinner. As locals, you're sure to see new faces over the next few weeks as visitors come from all over to spend time with loved ones. Hosts and hostesses from Back Bay to South End and to Midtown to Dorchester will definitely be looking for inspiration to impress their guests. If this sounds like you then take my recommendation; make a coordinated and refined dining table arrangement the focal point of your home. I may be biased but when reminiscing on celebrations from my past, I've learned that some people's table decor can be downright stunning.

Hosting a holiday gathering and designing a table to match may feel like a daunting task, but it doesn't have to be. When a few of my colleagues suggested I share some tips I turned to some design stars. Read what they have to say about setting the table for a fantastic holiday gathering in your beautiful Boston home.


Bryan Rafanelli

Bryan is both a friend and a talented designer. When soliciting his input he shared that the "sense of community and of bringing people together to have a good time just for 'good time's sake' has always been inside [him]." Since his celebrity projects range from Chelsea Clinton's wedding to the Obama's soiree, Bryan is quite popular across the country. He is even recognized as one of the Top Event Planners in the U.S. by Harper's Bazaar, Martha Stewart Weddings, Departures and Town & Country among others. All this to say I know I can trust his word when receiving decor advice.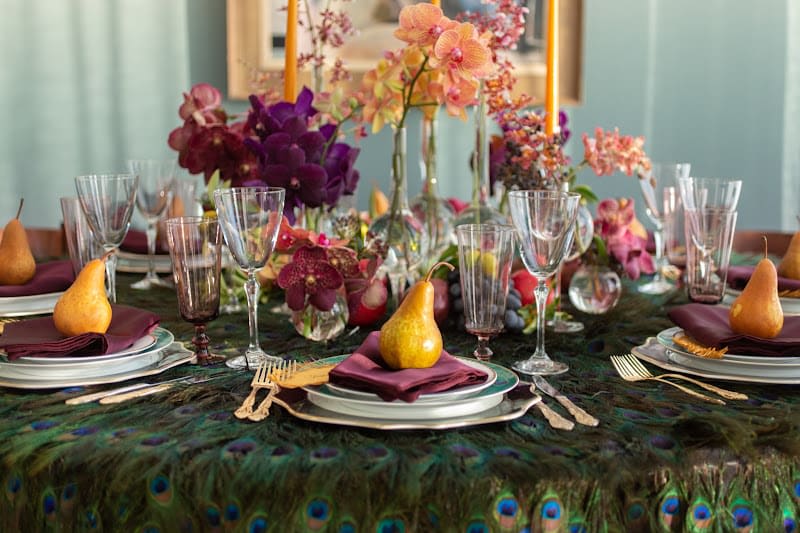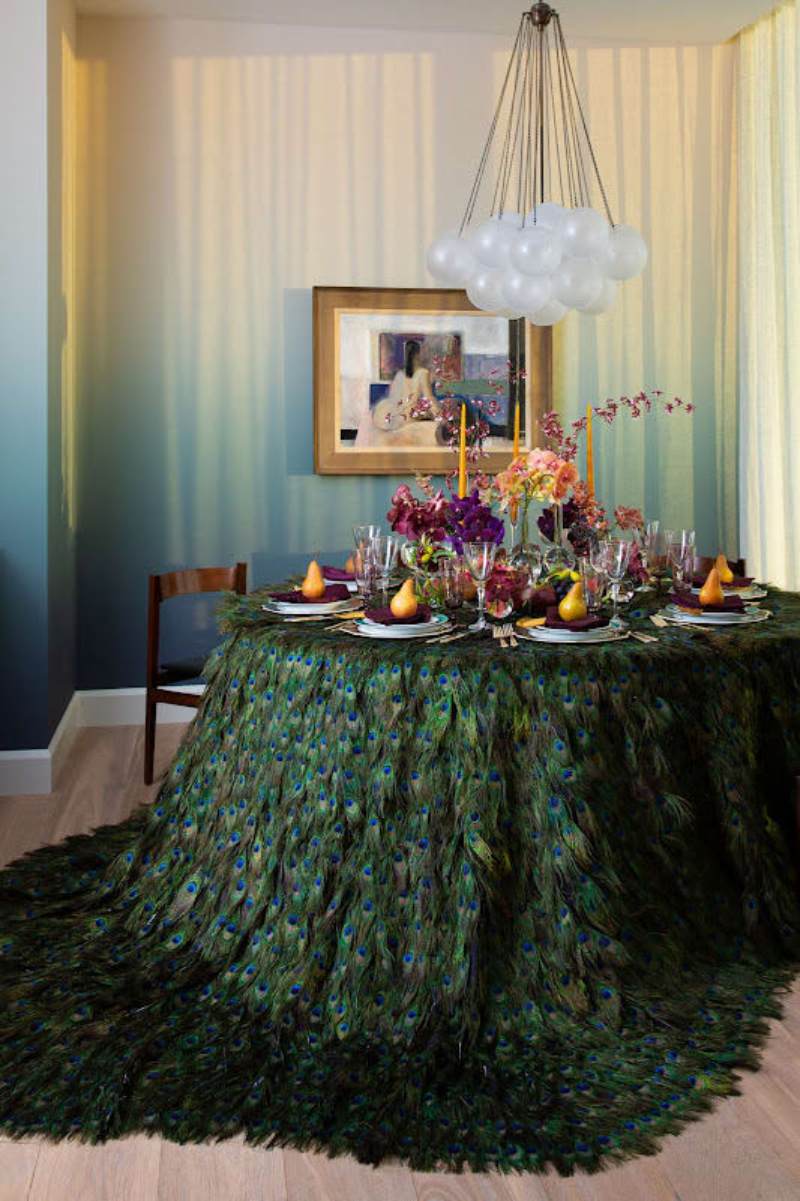 The first trade secret he shared was that there is beauty in numbers. He asserted that repetition through décor always makes for great impact. To quote him directly, "I like to pick one thing to inspire me and multiply it … in color, in texture, and in real life." The above image featuring hundreds of peacock feathers sewn into a one-of-a-kind peacock feather tablecloth serves as an excellent example.


The second tip he shared was to utilize unique materials and incorporate pleasurable textures. Again when thinking about past gatherings, even though this aspect definitely contributed to my enjoyment, I didn't realize how much it could elevate the whole experience. He suggests pulling materials from the garden and including flowers, branches, foliage, fruit or even a lost feather or two. A diverse selection of textures can be pulled by choosing a unique tablecloth. Think outside the box by considering velvet, suede, feathers, and fur!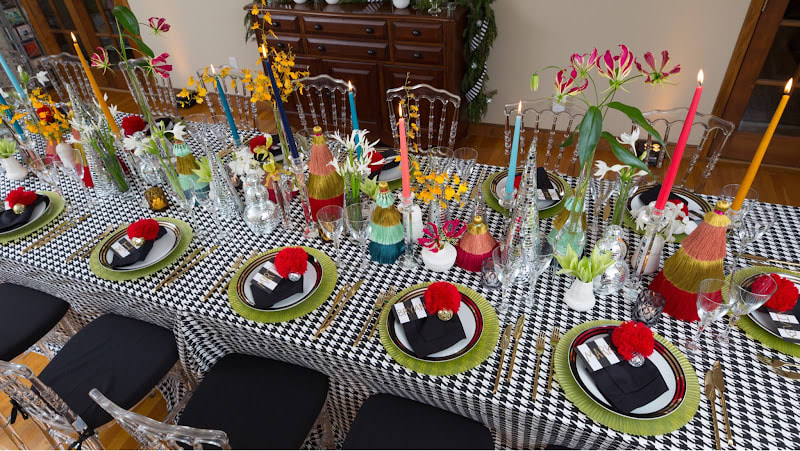 The last recommendation Bryan gave me was to be practical. Don't let your décor get in the way: Make sure your decorations allow for easy conversation across the table! Adding a handmade element shows the gift of time but if they are so bulky that they make eating difficult no one is going to enjoy it. I've personally do handwritten place cards that capture this tip perfectly. Put your own twist on it by using handmade paper! I was impressed to learn that the paper leaves you see in the above photo were hand cut, dipped in gold paint and handwritten with a calligraphy pen. Just amazing!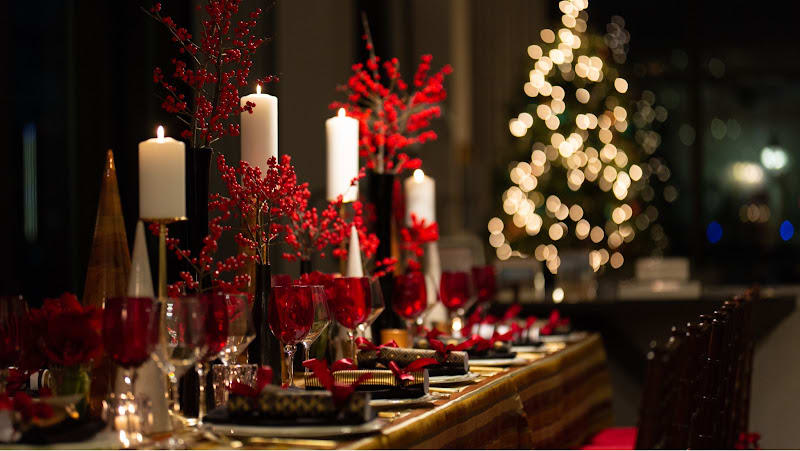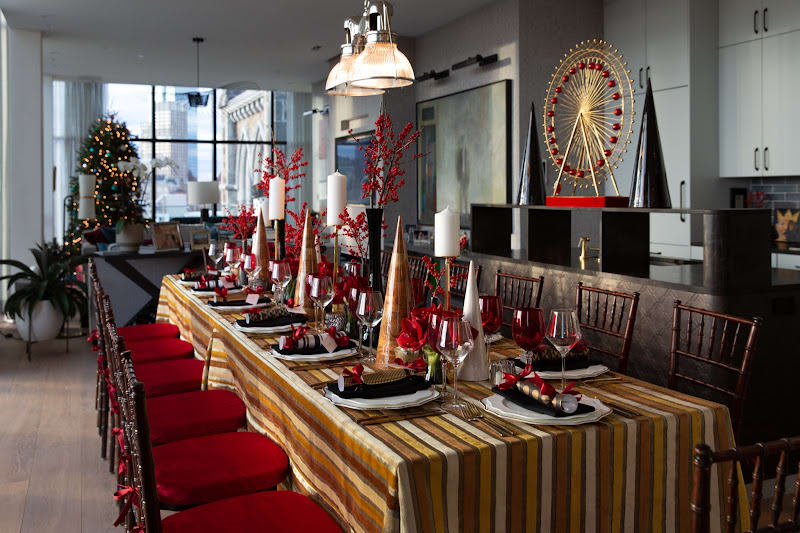 Tanya Matthews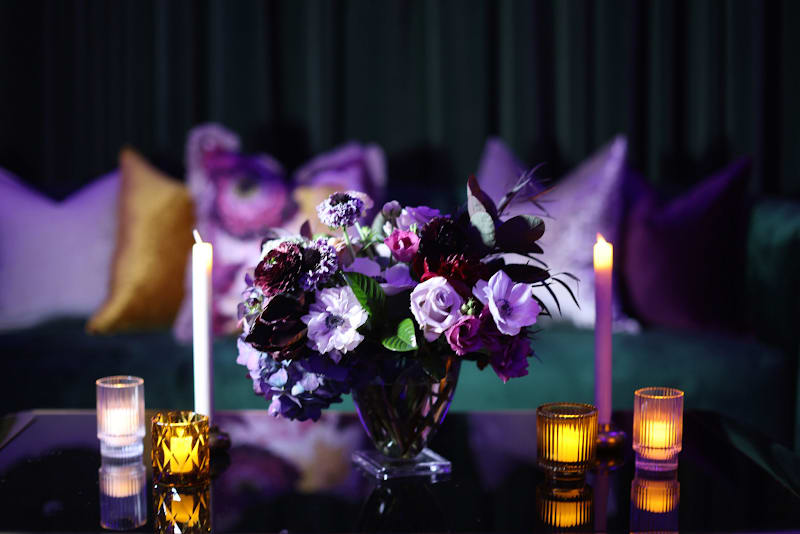 Credit: Cheryl Richards

I turned to Tanya, the Hospitality and Catering Executive of The Newbury Boston, to gain another pro's perspective on how to make an impact. She had just the right words to explain the importance of creating a festive ambiance:


"Holidays are a celebration of family and friends coming together. This celebration is represented with hospitality and thoughtful touches. The ambiance set for your guests is as important as the food. It will set the tone for guests to feel welcome, appreciated, and honored. Lovely background music, soft candlelight on the table, elegant and seasonal table décor, and florals, a toast upon arrival, and even a takeaway gift all create an experience your guest will not forget."


Her strongest recommendation was to wow your guests by displaying an unexpecting color scheme. Everyone expects to see red and green decorations strewn about the markets, stores, and homes. Instead of going with the traditional, opt to incorporate more interesting color combinations. Since real estate is my area of expertise, Tanya included some tried and true pairings below so you don't need to experiment on your own.


Purple and gold is a great color combo and alternative to the traditional red and green. This combination exudes sheer luxury and holiday spirit.
You can never go wrong with white decor, especially when mixed with a fun, bright color like teal! Teal and white are a beautiful color combination that will surely bring a smile to your guests' faces.
If you're into maximalism, you'll enjoy going with a rainbow color scheme for this year's holiday table. Be wild and expressive as you want to be! After all, you're hosting the holidays this year, might as well make it a celebration that reflects your vivacious personality! This blog offers an array of fun, DIY rainbow decor ideas that you can do yourself, divvy amongst the kids, or do together as a family.
Although my design chops fall somewhere between novice and intermediate I've learned so much from these two. With a little creativity the possibilities really are limitless. Whether you trend toward luxury or simplicity, the effort you put into your holiday decor is what your guests will appreciate most. Remember to enjoy yourself and have a bit of fun!


If after all these ideas, you are inspired to browse some fabulous luxury Boston real estate,
contact Rodriguez & Associates
today. We will be happy to help you find the Boston home of your dreams.