Just because every home needs them doesn't mean bathrooms have to follow a practical design. Just the opposite: I believe we should take advantage of the bathrooms to elevate the whole living experience of a home. Consider the bathroom your own personal oasis, and you'll understand me when I say they're a crucial part of your home. Get an idea or two from my favorite luxury bathroom trends below and find some inspiration for your own bathroom upgrade.
Elevate your bathrooms using these trends

Striking colors
Too often, bathrooms are a colorless afterthought. That can all be changed through a striking color scheme. This helps piece together the look and feel you want in your private sanctuary. Try a deep blue sink or maybe a forest green accent wall gilded with gold mirrors. Be adventurous and go for the
color drenching trend
for a palpable vibrancy. Another fun way to introduce color is by picking from the color wheel, choosing a pair like blue and orange for complementary colors, or a monochromatic scheme in shades of blue for a sense of harmony and serenity. Neutral bathrooms never go out of style, so if you're less adventurous, I recommend going with gray and white or beige and brown for a classic look.

Vintage elements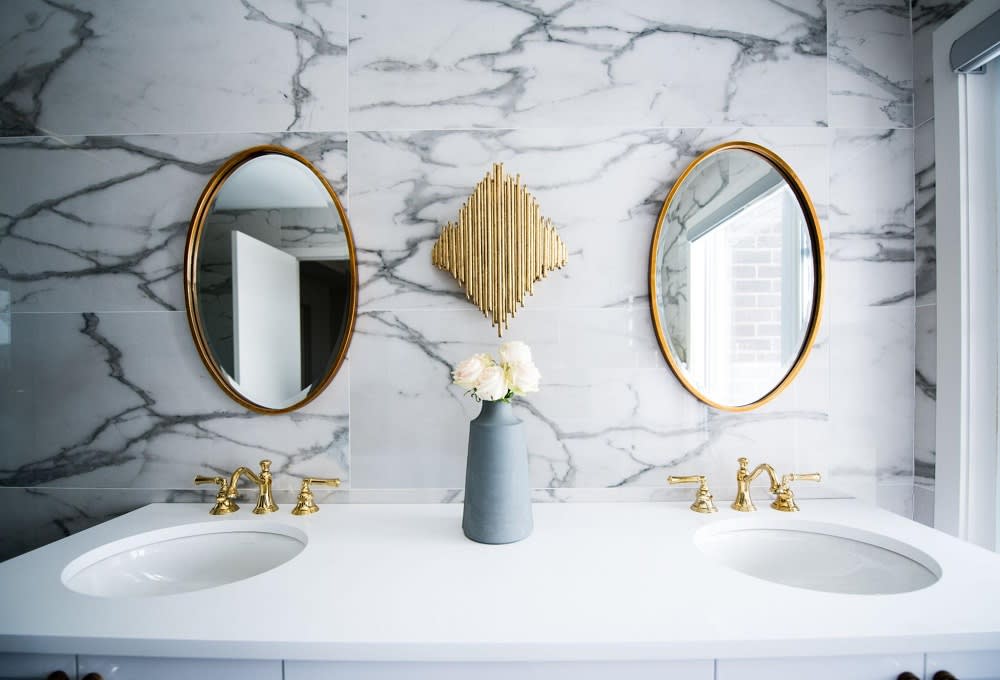 Add some flavor to an oft-overlooked space in your house by utilizing vintage design elements. I love to bring a certain dashing sensibility to a restroom through elegant, charming vintage pieces. A chandelier will bring sheer elegance to any space and pairs well with cove molding. I find that adding something as simple as shower curtain rings for your freestanding clawfoot tub creates an effortless vintage aesthetic.

Luxury waterworks

Considering showering, bathing, and hand-washing are all things that occur in bathrooms, it makes perfect sense that installing a deluxe rain shower, a bathtub with jacuzzi capabilities, or water-pressure controlled faucets dramatically enhances your experience.


I recommend this granite vessel bathroom sink for an ultra-modern feel. Consider this rectangular ceramic sink if you prefer a more classic look. If neither of these captivates you, check out this selection of
luxury bathroom sinks
for inspiration.
There is nothing quite like a cascading rain shower to make you feel like you've been transported to a tropical paradise or day spa. Elevate your shower experience with this
complete shower system
, with an LED shower head with color-changing lights, body jets, rainfall, waterfall, and misty shower settings. There are plenty of other
rain shower heads
that will make you feel like you're at the spa.
Don't forget the bathtub! My clients find a luxury bathtub to be an essential element when buying Boston real estate. I love the teardrop shape of this
freestanding bathtub
. Consider this
bathtub
if you prefer a rectangular shape or have
Badeloft
create a custom luxury bathtub.

Perfect tranquil lighting
Bathrooms are places that thrive on peaceful, comfortable ambiances. What better way to achieve that than with soft, delicate lighting? If you're going with a vintage theme, add this
Broche five-light bath light
over your vanity for a touch of glamor. Pair it with this
ceiling Broche light
for continuity.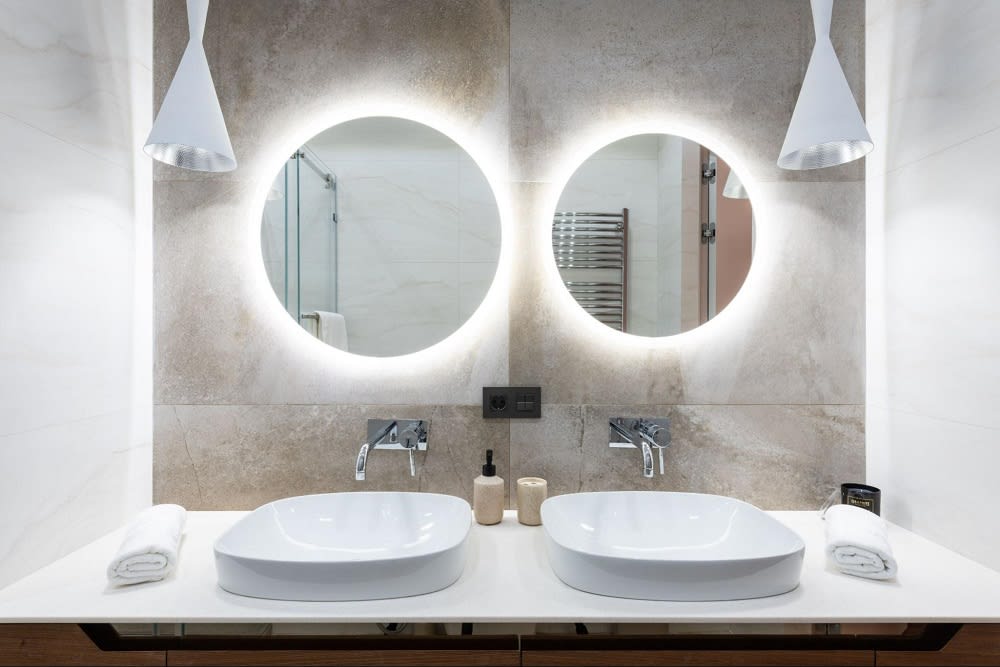 Contemporary bathrooms boast clean lines and geometric patterns and are ever-increasing in popularity. This
three-light bath vanity
will look lovely next to your rectangular bathtub. Chic and uncomplicated, this
three-light bath sconce
effortlessly modernizes any bathroom.
Some of my clients prefer seeing light fixtures in person over ordering them online. I send these clients to
Neena's
when they're on the hunt for fabulous lighting options suitable for every discerning customer.

Eye-catching stone

Bring some equally refined and earthy vibes to your bathroom using deep, rich stone or opulent marble for counter space, flooring, or wall decor. Natural stone and timber never go out of style when it comes to home decor. Incorporate a timber bathroom vanity or bathtub to make a statement.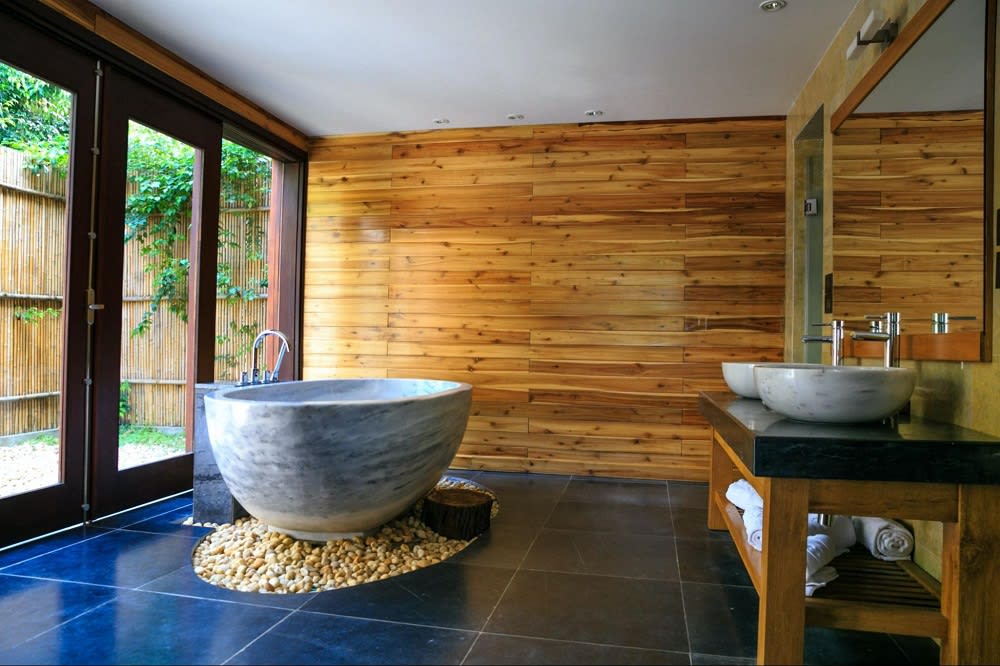 Feel like you're on the top of the world with a spacious, eye-catching bath. A rock crystal bathtub is eye-catching, gorgeous, and creates some serious wow factor. This onyx vessel sink will surely turn some heads and add a spa-like feel to your bathroom.

Textured, organic materials

With technology taking over every aspect of our lives, we all need some natural elements to bring us back to earth. In my experience, exposed wood, brick, and the previously mentioned stone can make your bathroom jump from a dull must-have space to an atmospheric, peaceful room all on its own. A few natural accents can transform a cold and impersonal space to a warm and welcoming one.


From rustic stone floors to natural wood cladding, your options are limitless. Opt for a blond wood finish in cabinetry or even a wood panel installed on one wall for a bright and inviting look. Spice up your neutrally-colored bathroom with greenery or add glass, ceramic, or even metal accents for a pleasing, organic feature. Other ways to add natural elements are via wicker, bamboo, rattan, or other accent pieces.

The future is now

What's the point of having smart home elements if your bathroom is still living in the last century? Luxurious water control, pleasing lighting, and more are options for a bathroom of the future. My clients and I can agree that smart technology features make our lives easier, and they are not limited to speaker systems and kitchen appliances.


Smart bathrooms are becoming more popular, seemingly by the minute. For convenience, security, and more, smart bathrooms utilize technology to give the homeowner total control of the space. Imagine waking up and walking to the bathroom only to be greeted with heated floors. The beauty of innovation! Smart faucets, toilets, and showers are just some of the
smart bathroom technology trends for 2022
.
Ready to start your Boston real estate journey?
Are you searching for a home with marvelous bathroom facilities or more Boston real estate? I am a leader in the New England market and have more than 17 years of real estate experience. I am excited to get to know you and your real estate needs and
partner together
. Reach out today to get started.