It's been said that the kitchen is the heart of the home, so it makes sense you want your home looking its best! From energy-efficient appliances to adding additional storage, 2022 is shaping up to have some innovative and inspiring trends. Whether you're looking for some decoration inspiration or planning for a full kitchen remodel, it's helpful to get an idea of what's currently in style. Below are some of our client's
luxury home
kitchen trends.
1. Energy efficiency
If you're like me, you've become intentional about finding ways to live a sustainable lifestyle. This might range from the products you purchase to the foods you consume. Although eco-friendly products often cost more, the payoff is well worth it in the long run. Sustainability improves the quality of our life, helps protect our ecosystem, and preserves natural resources for future generations. Research has found that
more than a third of global consumers are willing to pay more
for sustainable and environmentally-friendly alternatives.
When it comes to trends in luxury home kitchens, sustainability has become an important topic of conversation. And as more individuals are opting for this eco-friendly alternative, it's safe to say that this trend isn't going anywhere anytime soon. On the contrary, many of our clients are choosing design styles, appliances, and materials that are ethically sourced, energy-efficient, and good for the environment. Some of the most popular ways to accomplish this goal in 2022 are through utilizing natural materials such as wood, installing energy-saving window panes, and investing in smart technology appliances.


Now, it's worth noting that your refrigerator uses the most electricity among all of your kitchen appliances. On top of that, older fridges drain much more power than today's models do. You can counteract that by purchasing an
Energy-Star certified refrigerator
, which will help maximize your energy and help you save money – it sounds like a win-win to me! When thinking about what other products to incorporate into your kitchen, try to select products that have an Energy-Star logo. This is the government-backed symbol for energy efficiency and will be anywhere from 9% to 50% more efficient than the industry standard.
2. Smart technology appliances

Since we're on the subject of ways that you can reduce your carbon footprint, I thought this would be a great time to mention smart technology appliances. Luxury kitchens embrace technological innovation to create a more functional space. Smart appliances such as refrigerators, microwaves, ovens, and sinks enable you to monitor the energy you use and even receive feedback on how much energy your appliances are using. And that's not all! You can also receive notifications of factors that might be negatively impacting the efficiency of your home, equipping you with the knowledge to make necessary changes.
3. Dark colors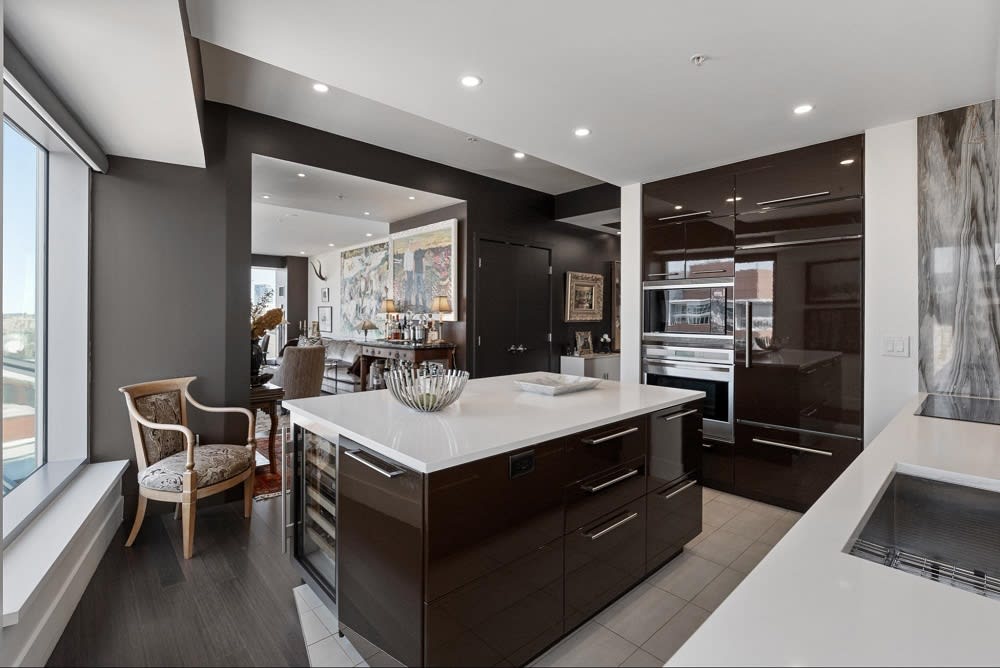 While white cabinets have previously been a staple in luxury kitchens, it's out with the old and in with the new. Last year, we saw the reintroduction of dark and mood cabinets. Dark cabinets portray elegance and a deep, luxurious atmosphere that other options fail to convey. Cabinetry ranges in deep, rich hues, spanning from medium brown to black. Dark colors can help pull a room together, giving a strong presence with their bold tones. Their growing appearance and popularity have become a trend in luxury kitchens, showcasing opulence and glamor.
4. Quartz countertops

When it comes to high-end kitchen countertops, quartz is still king. This high-end material is one of the top choices for a luxury kitchen countertop. There are plenty of reasons that I am drawn to quartz, but their impressive durability and impact resistance are top of the list. Unlike other luxury surfaces, quartz is an engineered slab. Quartz now comes in many colors, patterns, and finishing techniques, enabling homebuyers to find a style that best suits their preferences. Plus, finishing techniques mimic realistic stone patterns, giving your countertops an added layer of luxury. Quartz countertops will stand the test of time.
5. Connection to the outdoors

There's little that's more relaxing to me than outdoor dining – whether it's during a warm summer evening or the first days of fall when I can watch the leaves change into their vibrant shades. In the luxury market, our clients are showing a heightened desire for connection to the outdoors, which can be accomplished through an indoor/outdoor living space. Homeowners are adding entry points from the kitchen to outside entertainment, which can be easily accomplished by installing a glass door in the kitchen.


Why do homeowners want a gourmet outdoor kitchen space? A luxurious outdoor kitchen that can elevate your backyard into the perfect entertainment oasis. It can also provide all the comforts of indoor kitchens with the added bonus of preparing your favorite dishes outside when the weather permits. And, if the time comes that you decide to sell your home, an outdoor kitchen may see a 100 to 200% return on investment, significantly boosting the value of your home.
6. Open layout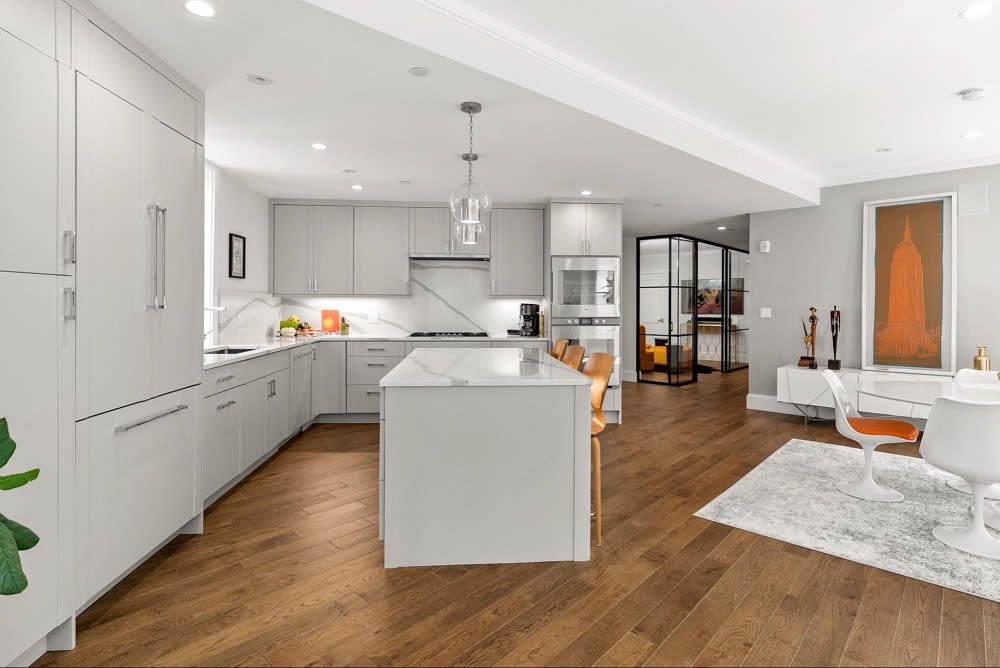 If you're someone who enjoys cooking and entertainment, then an open layout is the perfect option for you. We're seeing more modern kitchen designs that incorporate enough space for cooking and entertaining guests. As its name suggests, an open concept kitchen has few, or even no, interior walls. This design trend has gained popularity in recent years as more of our clients want a space that is both functional for everyday activities and hosting for get-togethers and holidays.
There are plenty of benefits of an open kitchen, which means that it's no surprise this design has won over homeowners and professional kitchen designers to become a common trend in luxury kitchens. By removing walls, an open kitchen layout makes the space feel bigger. This can also make room for a kitchen island, a staple feature in modern kitchens. In larger luxury kitchens, it's not uncommon to have two islands. Open layouts allow for greater airflow and natural light, seamlessly flowing into adjacent rooms and transforming a dim kitchen into an airy room. This open-concept layout also encourages better traffic flow, which is especially useful when entertaining guests.
7. Integrated Lighting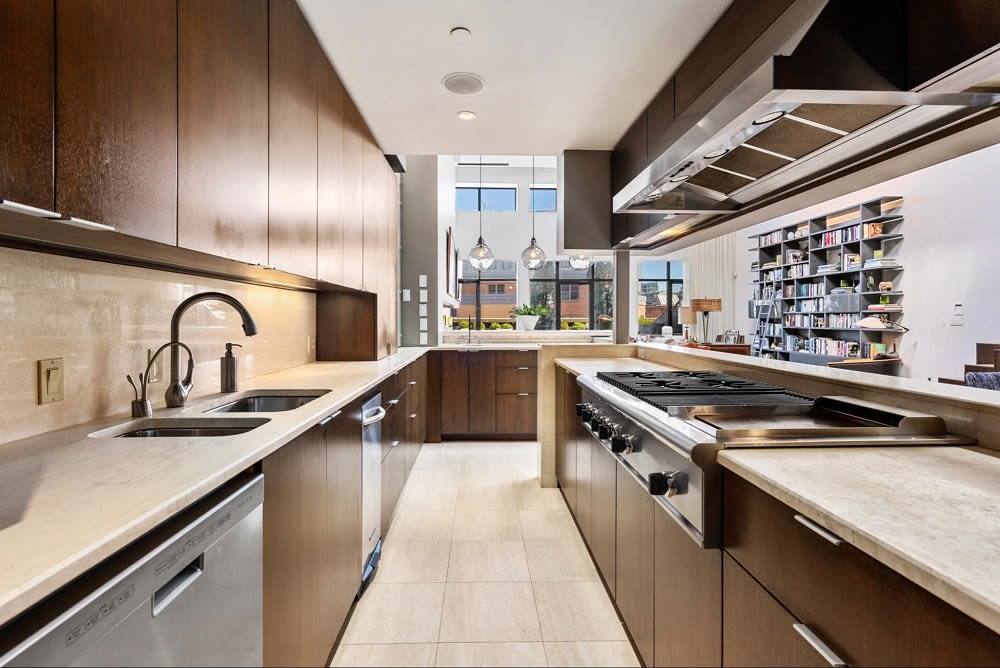 Just like you need healthy, balanced meals, your kitchen needs a healthy mix of different types of lighting with a combination of overhead and pendant lighting. Integrated lighting is quickly gaining popularity in luxury kitchens. This refers to lighting that is built directly into your cabinets and kitchen space, helping to create a well-lit workspace that takes the strain off of your eyes. There's a myriad of options available for integrated lighting – built-in, strip, aftermarket, LED, battery-powered, or hardwired.
A perk of updating your lighting system is that it can all be controlled from your smartphone or tablet, improving kitchen functionality. You can even install lighting within your kitchen cabinets and drawers that trigger when a drawer is opened.


When installing your new lighting, I recommend investing in LED light bulbs. This quality light bulb has been proven to last longer, be more durable, and offer comparable or better light quality than other lighting. Plus, it
uses 75% less energy
than the standard incandescent lighting and lasts 25 times longer.
8. New and improved storage

As the old adage goes – out of sight, out of mind. Modern kitchens are designed with new and improved methods for storage, and in a luxury home, we believe that a pantry is a necessity. Large, built-in pantries are a valuable asset to a kitchen and provide plenty of space for storage, helping keep kitchen supplies out of sight and stored in a proper area. Walk-in pantries will also help keep your kitchen clean and organized. Like most things in a luxury property, storage can be customized to fit your exact needs and preferences. Having sufficient storage is also a great way to conceal unattractive garbage and recycling cans with a creative pantry, successfully hiding the unsightly tin and potentially foul odors.


Whether you're looking for a short-term rental or a forever home, I can walk you through the process from start to finish and help you find a place that's right for you. With years of experience in the real estate industry and deep knowledge of luxury homes in Boston, I'm ready to help you find a house that truly feels like home.
Contact Ricardo Rodriguez & Associates
today.