After nearly three decades of calling this wonderful city my home I know it like the back of my hand. One delightful discovery that may surprise new transplants is the exceptional culinary scene that can be found here. Countless options with the potential to appease everyone, from those who enjoy classic burgers to guests with refined palettes that appreciate fine dining. Here's an inside look at a few of my favorite dishes from a handful of outstanding Boston restaurants.
Myers + Chang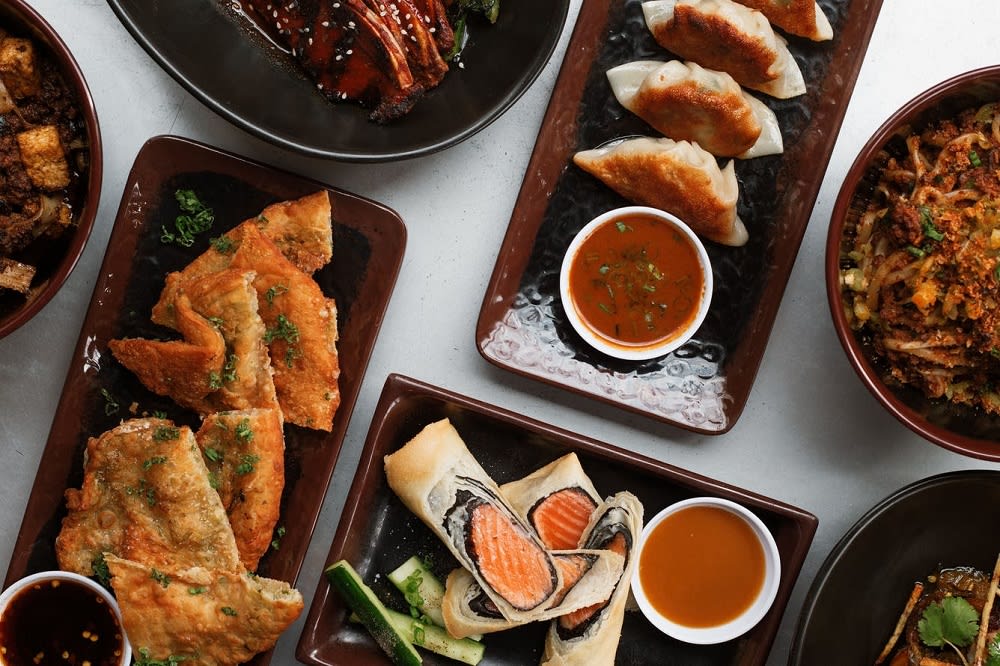 Credit: The Infatuation
Whenever I am in the South End,
Myers + Chang
never fails to tempt me to their doorstep. Their fabulous menu with various Asian influences always leaves me satisfied. This neighborhood favorite is owned by our dear friends Chef Joanne Chang, and long-time restaurant industry guru, Christopher Meyers. As someone who brings their own enthusiasm to the Boston luxury real estate market, I can identify with the passion and pleasure this unstoppable team enjoys as they share their Chinese, Korean, Taiwanese, and Asian-inspired dishes with Boston's residents and visitors alike. My dining suggestion? To gain the full experience, start with fresh, cold, and crunchy apps followed by dim sum and veggies.
One of my favorite dishes to savor at Myers + Chang are, without a doubt, their dumplings. Joanne Chang shared with me that her mom made similar dumplings for her as a child. "They were one of the only foods my little brother would eat and I loved to help her fill and pleat all of the dumplings," she said. This insight into her life only made me want to sample more of her recipes!
They offer three different variations, each with its own allure and flavor profile. The edamame and wasabi dumplings are vegan-friendly and served with black vinegar aioli. For a zesty treat, opt for the lemony shrimp dumplings with kimchi yogurt sauce. Last but not least, Mama Chang's pork and chive dumplings with black pepper-scallion sauce are a flavorful and decadent choice that will leave you wanting more!
I later learned that Joanne still infuses her cooking with familial love. She was quoted as saying, "To this day [my mom] comes to Boston several times a year and sits at the food bar and orders these to make sure we are making them right. We all watch holding our breath when she takes that first bite...and sigh with relief when she gives us a satisfied thumbs up. Now you can make them yourself!"
Bar Mezzana
Asian fusion isn't my only stop in the South End. After a long day of showings I recall taking one of my clients to see another great friend, chef Colin Lynch and try the delicious Italian fare at
Bar Mezzana
. This family-owned and operated restaurant is run by industry power couple Heather and Colin Lynch, and partner Jefferson Mackin. In the same way that I advised my client on the ideal home to add to their portfolio, I considered it my duty to only recommend the best in cuisine. We started with Aperol spritzers, moved on to an award-winning Crudo menu, and finished with housemade pasta. We had planned to discuss the particulars of the transaction but the quality of the food made conversation fall low on our list of priorities. To be honest, the wine program featuring carefully curated selection of varietals that pair seamlessly with chef Lynch's dishes didn't help us keep our minds on business either. The fabulous Heather Lynch and beverage director Ryan Lotz, offered us both popular bottles and lesser-known options that elevated our experience.
In case you plan to visit without me, start dinner with a fresh plate of yellowtail Crudo and rosemary & onion focaccia, just be sure to save room for my favorite dish. I love all of the appetizers and pasta available, but I return time and time again to savor the chicken under a brick. This dish features creamy polenta, brussels sprouts, currants, pecorino, and almonds. A medley of flavors and textures pair with juicy chicken that will delight your taste buds.
Boston Chops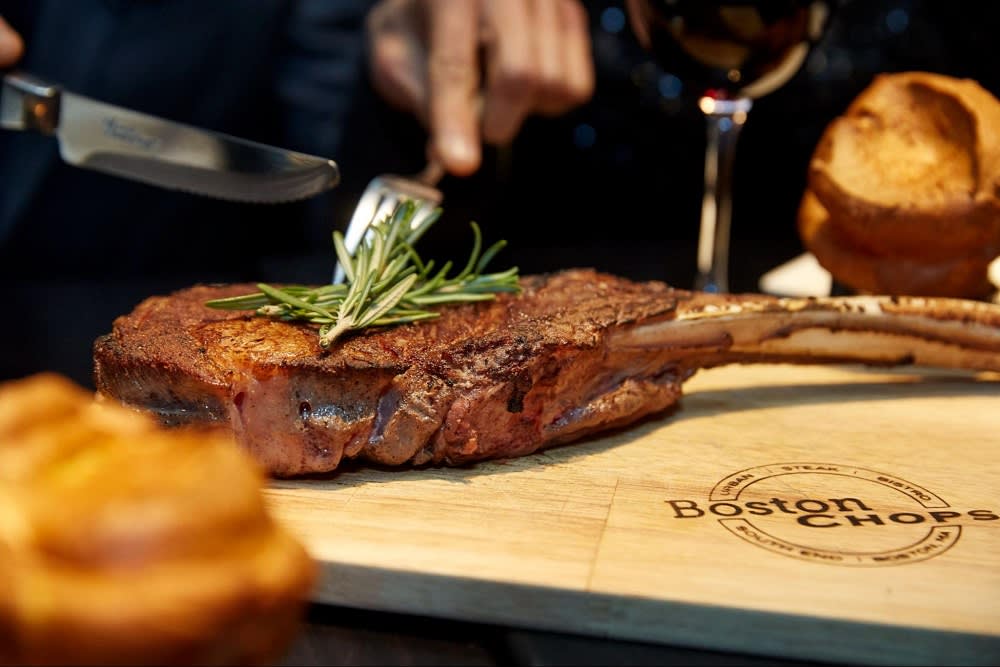 Credit: Boston Chops
When I'm looking for a perfectly cooked steak I head to
Boston Chops
. Brian Piccini and Chef Chris Coombs, owners and dear friends, have created a fantastic space to enjoy the finer things in life. I love this steakhouse because it offers my ideal balance of casual yet refined world-class dining. The unique menu features an innovative perspective on American staples and really is the #1 must-visit steakhouse in the Boston area. Full disclosure, I may be a bit biased as my brother, Chef Ney Rodriguez, creates masterpieces in the kitchen. Everything from the Rodriguez family, from dining to real estate deals, is worth experiencing if I do say so myself. Shameless plug aside, I love taking my team of Boston realtors here, both new and old. The friendship, family, and ambiance that fills the space is a great way to set the tone on how we operate as a unit. I always insist the group indulges in the 14-ounce bone-in filet mignon. It's my favorite cut! The bone keeps the meat as flavorful as ever while the tender, melt-in-your-mouth filet leaves you wanting more.
El Peñol
This next location is truly near and dear to my heart. I am able to call Boston my home with no regrets because the Colombian flavors of my youth are just a short drive away. With a great love and passion for tradition, like me, the Medina Balbín family moved to the United States in search of the American dream, and success has never tasted better!
El Peñol
was born in East Boston to continue their family's legacy of spectacular Colombian dishes. My brother and I will often stop by for the Bandeja Paisa, a filling dish teeming with carne asada, chicharron, huevo frito, frijoles, and arroz, all served with platano maduro and an arepa on the side. It is almost like being back home! Savory grilled meat, flavorful beans, and cheese-stuffed cornmeal cakes make for a comforting meal we can't get enough of. Any client that works with me to buy or sell their Boston home will undoubtedly come back to work with me again and again. Some business relationships have spanned years and I make a point to bring those valued friends here to gain some insight into my life and culture. From what I hear, my compelling opinions on Colombian cuisine have inspired more than one purchase of South American luxury vacation homes!
Mistral
Mistral
brings approachable French cuisine to Boston and I've found it an ideal match for those new to the Boston luxury real estate market. The focus of this posh bistro sets the appropriate tone with its delightful French dishes. And it happens to be my neighborhood hangout. Whenever I walk in I am transported by the warm and welcoming south of France-inspired atmosphere reminiscent of Provence. France is high on my list of favorite vacation destinations and a quick visit to Mistral helps to curb my cravings. Celebrated chef/owner Jamie Mammano brings a palpable level of sophistication and seasonality to his fine French-Mediterranean cuisine. I encourage my friends and clientele to enjoy dinner with a date in the dramatic dining room, or swing by on Sundays for brunch. My recommendation saved a close companion when he forgot to make plans for his anniversary. You cannot go wrong with a plate of grilled portobello mushroom "carpaccio," and seared foie gras with confit of duck in brioche drizzled with Wisconsin dried cherry gastrique. His wife was more than pleased and never the wiser about the near miss. But one dish I urge you to try is a pizza, of all things! The grilled pizza is prepared with a thin crust and boasts beef tenderloin, mashed potato, caramelized onion, and white truffle oil. These upscale flavors on a common favorite blow me away. This elevated pie will quickly turn your trip to Mistral into a weekly affair!
Sweet Cheeks Q
When I'm craving a robust meat-focused meal I head over to the Fenway-Kenmore neighborhood.
Sweet Cheeks Q
never fails to provide Bostonians like myself with barbecue served atop family-style tables in a welcoming space. Tiffani Faison, whom I absolutely love, is known for her role on
Chopped
as a judge. She serves as both a chef and leader in the kitchen, bringing her impeccable cheffing skills to the table. There are plenty of local, ice-cold beers available to pair with your meal. I've tried the tangy and citrusy Dollywood cocktail. It cut through the rich barbecue flavors perfectly. Once you're ready to share a few eats, grab some world-famous buttermilk biscuits and pumpkin hushpuppies for the table. Entrees range from Texas-style hot links to giant smoked beef short ribs.
Whatever selections you choose, don't forget to snag some buttermilk fried chicken! I caught up with Tiffani recently, and she said, "The fried chicken at Sweet Cheeks is intended to be as close to the fried chicken my Mom made for me growing up. Super crisp coating on the outside with great seasoning and juicy, mouth-watering chicken as you bite through the crust. It's always available with our "Hot Shake" for people who need a little extra kick." It would be a crime
not
to indulge in fried chicken next time you visit Sweet Cheeks Q!
If you're browsing the best of what Boston real estate has to offer,
contact Rodriguez & Associates
today. My experienced team will be happy to help you find the Boston home of your dreams.