We've made no secret about how much we love Boston and its esteemed luxury real estate market. In fact, few things bring me more joy than grabbing a table at a trendy South End lunch spot or partaking in an elegant dinner in the Back Bay while extolling the virtues of Boston's upscale urban home market.


But I also enjoy a bit of adventure and stepping outside my Boston comfort zone—uncovering new markets with their own high-end sense of style.


My latest infatuation is Boston's neighbor to the south, Providence, Rhode Island.
A new declaration of New England luxury

How does a city with the historical pedigree of Providence fly under the radar for so long? It's tough for anyone to notice you when you stand in the shadows of two great American shining stars—New York and Boston. In the past, Providence was nothing more than a waypoint. A pit stop for those traveling between New York, three hours to the south, and Boston, an hour to the north.


But housing needs as well as relocation patterns have changed, and homebuyers outside of Providence are taking notice. They realized what they discovered—cultural attractions, stunning natural beauty, and a highly appealing luxury real estate market—was worth an investment.
An American original

Time for a history lesson! Founded in 1636 by preacher Roger Williams, the city's name is no accident. After escaping from religious persecution in Massachusetts, he thanked God for protecting him in his journey and christened his new home Providence. Thus was born Rhode Island's independent streak and reputation as a bastion of free-thinking and tolerance.


To drive the point home further, Rhode Island was the first colony to request a Continental Congress, the first to renounce allegiance to the British Empire, but the last of the original colonies to ratify the new U.S. Constitution.


During and after the Revolutionary War, Providence grew into a vital seaport; its location along the Providence River and at the northern end of Narragansett Bay provide the city with direct access to the North Atlantic Ocean. Nods to this early affluence are prevalent in the grandiose construction of the era, including the Providence Public Library and the Rhode Island State House.
A picturesque urban setting

I love how modern Providence is a thoughtful co-mingling of old and new. Its urban core is an impeccable reminder of what happens when you bring nature into the fold instead of hiding it behind concrete and steel. The Moshassuck and Woonasquatucket Rivers meander through Providence before converging and continuing as the Providence River.

Cobblestone paths and a lush green canopy of trees frame the waterways. A 1,200-acre system of parks and green spaces provides respite for citizens as they move between their jobs and urban residences or venture out to grab a bite to eat at one of the city's outstanding culinary establishments.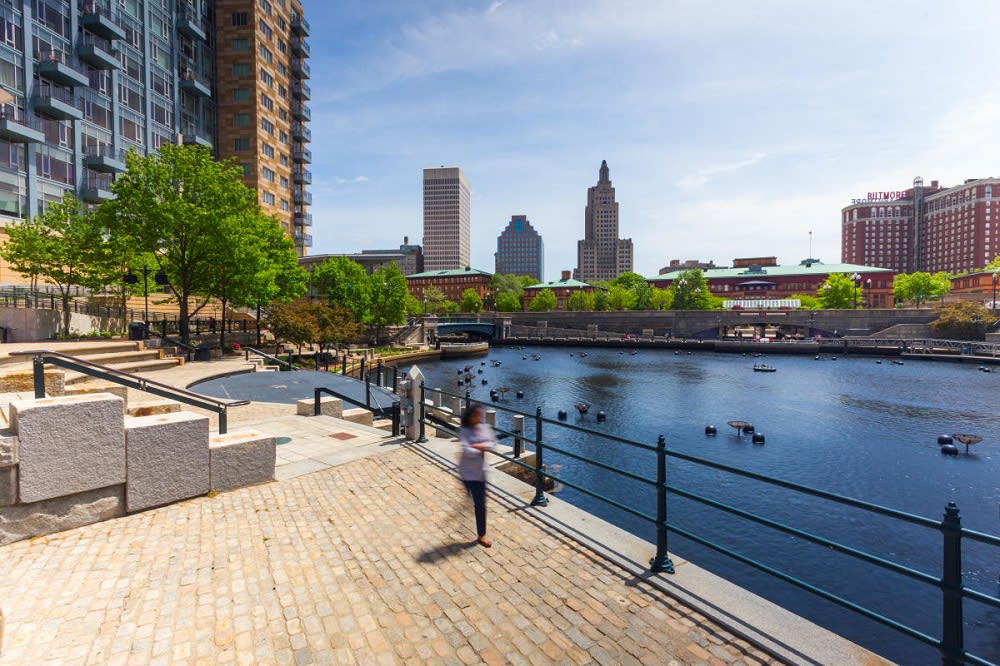 The centerpiece of this blend of the natural and artificial is the
WaterFire
performance art installation in
Waterplace Park
. The most striking feature of the Providence cityscape is the sheer volume of history on display. Providence's history dates back nearly 400 years. More than 425 districts and properties within Providence County feature on the National Register of Historic Places, including a dozen National Historic Landmarks.
A luxury market reborn

Many undervalued Providence's luxury real estate market. But the issue was never inferior inventory. There simply wasn't demand for it—until now.


Many new out-of-state buyers from the past two years realized Providence wasn't a hidden gem, but a sparkling jewel shining bright in plain sight. The city is home to a thriving arts scene, including a robust contingent of performing arts groups that belie the city's size.


An emerging destination for luxury home buyers and investors

First-time visitors are impressed with Providence's vibrancy, remarkable history, and various things to see and do. But there's also a certain familiarity that puts many at ease with the city of just under 200,000 people. Providence is very much a city defined by its neighborhoods. A compact urban area, held together by tight-knit communities. If that doesn't sound like the quintessential New England city, nothing does.

West End

Situated to the west of Providence's downtown core, West End is a community in revitalization. A large swath of the area's residential inventory flexed into multifamily homes, consistent with other areas of the city. Some commercial buildings have also seen new life as work-live spaces, intending to draw younger residents to the thriving community.


The food and bar scene gears itself toward the young professional crowd. Hip burger joints and bars and taprooms specializing in a variety of ales are prevalent. The neighborhood offers a mix of affordable, well-appointed homes, but the real prize is the increased income opportunities. Pricing ranges from $250,000 for the top-end multifamily flat to more than $500,000 for the income-generating dwellings.

Armory District
Within the West End neighborhood is the historic Armory District. Exclusively residential, there are several excellent eateries along Westminster Street and Cranston Street, walkable from every home in the neighborhood.
The West Side Diner
,
Great Northern BBQ Co.
, and
Sin Bakery
are local favorites.
The community earns its name from the massive Romanesque Cranston Street Armory, which covers 11-acres between Dexter and Parade Streets. The 10-acre Dexter Training Ground extends north from the base of the armory. The former drill field at the heart of the community now serves as the district's (and, by extension, West End's) primary outdoor recreational park. It includes a volleyball court, chess tables, two playgrounds, and an outdoor fitness area.


The homes here follow a similar trajectory as the larger West End community. Though, home prices reflect the armory as the premier place to live in West End.

East Side

East Side encompasses several communities representing some of Providence's oldest neighborhoods. The individual communities include Blackstone, College Hill (where Roger Williams founded Providence), Fox Point, Hope/Summit, Mount Hope, and Wayland.


Surrounded on three sides by the Seekonk River, Providence Harbor, and the Providence River, and featuring over 100-acres of park space, including multiple riverfront green spaces, East Side offers one of the most bucolic settings in all of Rhode Island. Brown University's primary campus sits at the heart of College Hill. The Rhode Island School of Design and their
RISD Museum
occupy four square blocks between Benefit Street and the Providence River, directly accessed from Downtown Providence.
Aside from being the most historic and picturesque of Providence's neighborhoods, East Side is also the most affluent. Property values are high, but the beautiful homes and idyllic setting justify every penny. Many homes date back to the mid-to-late 1800s and are immaculately maintained.


Given the scope of the neighborhoods, available East Side real estate is very diverse: 1 and 2-bedroom apartments in multifamily conversions starting at $250,000; College Hill, Blackstone, and Fox Point offer a mix of single-family homes, top floor income apartments, and three-unit multifamily buildings, most of which start at $1 million.

Fox Point

Located at the southernmost point of the East Side, Fox Point garners special mention as one of Providence's most eclectic neighborhoods. A vibrant mix of students, educators, medical professionals, designers, and commuters in and out of downtown Providence, this is where the best and brightest make a home in Providence.


It doesn't hurt that you're less than a 20-minute bike ride to the following: Brown University, Rhode Island School of Design, Innovation District, Andrew F. Anderson Emergency Center, Johnson & Wales University, and downtown Providence. Closer to home, Fox Point residents are within walking distance of a bevy of restaurants and bars, especially those along Wickenden Street, the
Providence River Walk
, and the
18-acre India Point waterfront park
.
Much of the real estate in Fox Point is multifamily and is ideal for those with investment in mind. Single-family homes come available less frequently, but when they do list, competition is high, even with asking prices starting above $1 million.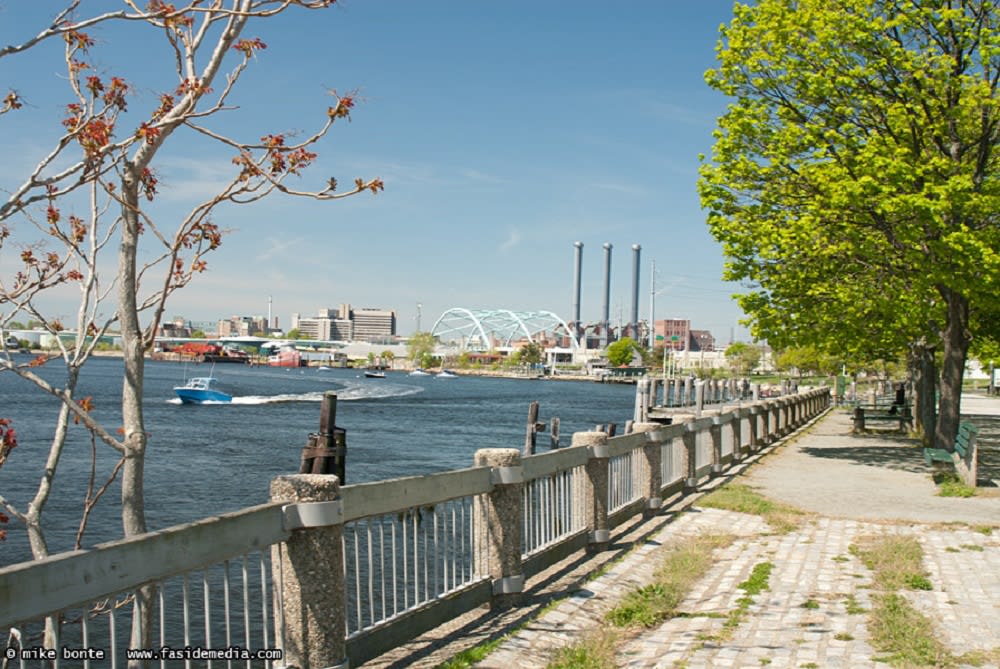 Photo courtesy of The Bontes
Downtown Providence

Over the last two decades, downtown Providence has come alive with a flurry of development and an influx of restaurants, retail, and entertainment venues. After many years of stagnation, a diverse and creative business community has carved out a niche for itself, including education, finance, the creative arts, and health and wellness.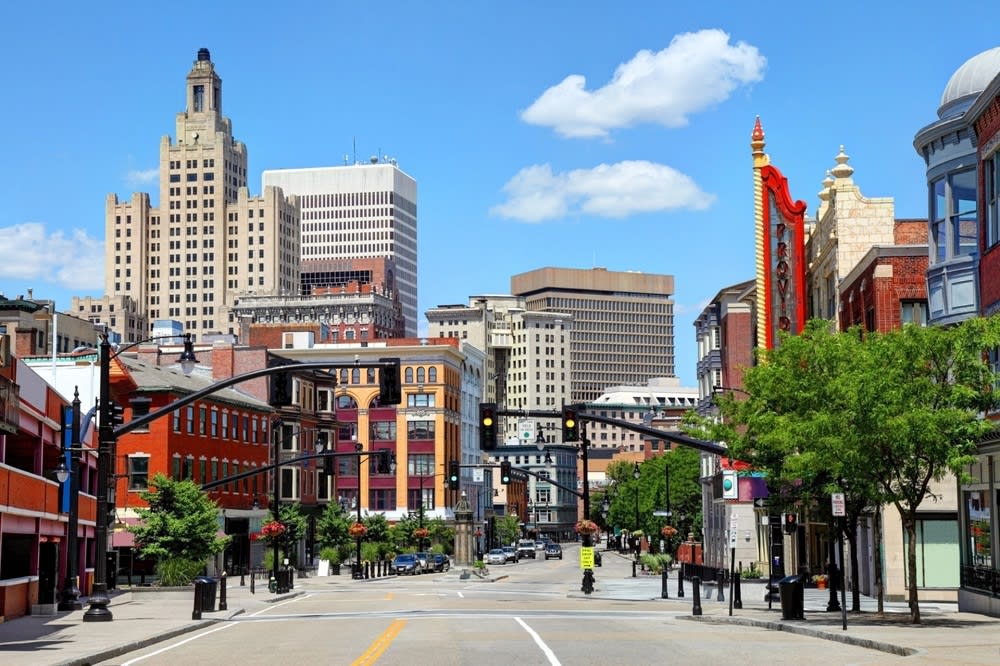 With a wonderfully intriguing skyline, including the Art Deco "Superman Building", a bustling waterfront, and several nearby neighborhoods feeding the city's day and nighttime populations, "The Creative City", is on a rewarding upward trajectory.
Though the live-work-play concept in downtown mainly favors the latter two principles, new housing options have added permanence to the city's growth over the last five years. More than 20 buildings in or directly adjacent to downtown provide much-needed living space and further promote Providence's ascension as a primary hub for businesses and workers.

The Jewelry/Innovation District

A former hub of jewelry manufacturing that is also part of the National Register of Historic Places, the Jewelry District is undergoing a massive rebranding and repurposing. The pivot is less about saying goodbye to the past and more about looking ahead to secure the neighborhood's future and that of downtown Providence.


The redevelopment, which began in earnest in late 2009 with the demolition and relocation of I-195, is paying off. The area has seen over 2 million square feet of development and $670 million in investment. The neighborhood is now home to Brown University's Warren Alpert Medical School, the
Providence Children's Museum
, the Bowen Center for Science and Innovation, an Aloft Hotel, and more than 20 shops and restaurants.
Ready to explore Providence luxury real estate?
For those interested in Providence or Boston's luxury housing market, my team and I can make those dreams a reality.
Contact Ricardo Rodriguez & Associates today
, and allow our group's years of experience and expertise to be your guide to Boston's (and beyond) extraordinary luxury estate market estate.